August Shooting Star Award Winner
Aspire is proud to recognize Char Jensen as our August Shooting Star Award Winner!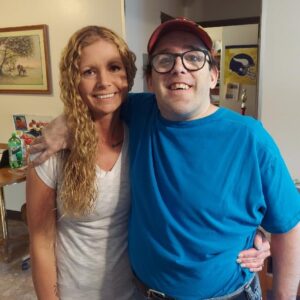 Each month Aspire collects outstanding employee recognition called Shooting Star nominations.  These are voted upon and awarded at our monthly staff meeting.  All of the monthly award winners are voted upon each year to select our yearly Shooting Star Award winner.
Char is an extremely hard worker who truly cares and loves the people she supports everyday. Recently, she has gone above and beyond with caring for an individual whose health was rapidly declining. She paid such close attention to this individual and did all she could to make it easier for this person to go on about their day and to be comfortable. Char is a superstar of an employee who pays close attention to detail and does all she can everyday!
Char is always going above and beyond, doing her best work. She's been dedicating some of her free time to visit a person supported in the hospital and Aberdeen Health and Rehab. Char is always in a good mood, it's such a pleasure to see her and work with her.
~Nominated by Anonymous and Destinee Tucker, DSP
If you have had an exceptional experience with an Aspire employee, please nominate them for a Shooting Star Award by clicking here!