January Shooting Star Award Winner
Aspire is proud to recognize Hau Quan as our January Shooting Star Award Winner!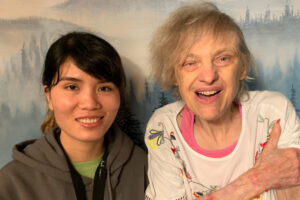 Each month Aspire collects outstanding employee recognition called Shooting Star nominations.  These are voted upon and awarded at our monthly staff meeting.  All of the monthly award winners are voted upon each year to select our yearly Shooting Star Award winner.
We are nominating Hau because she stepped up and filled in hours when we had a staff quit. She was called at home and was willing to take the full 12-hour shift for the next day. Hau has not only picked up shifts when staff quit but has stayed late and helped out as much as she can. She is a hard worker and a team player, she stays busy from the time she comes in until the time she leaves and she encourages and promotes happy and healthy daily living to the people she provides services to. Thank you for being such a Rockstar Hau!!
~Nominated by Tammy Hemmestad, Community Living Supervisor
If you have had an exceptional experience with an Aspire employee, please nominate them for a Shooting Star Award by clicking here!