July Shooting Star Award Winner
Aspire is proud to recognize Hope Loeher as our July Shooting Star Award Winner!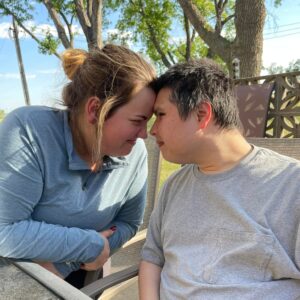 Each month Aspire collects outstanding employee recognition called Shooting Star nominations.  These are voted upon and awarded at our monthly staff meeting.  All of the monthly award winners are voted upon each year to select our yearly Shooting Star Award winner.
Hope is at the home during the day with one gentleman, she has been very consistent with him. She makes sure he is involved out in the community and has been helping him work on his past triggers and how to use his coping mechanisms while out in the community while making it fun and light hearted! Thank you Hope for being a constant in his life/day and making his transition as stress-free as possible for him! Hope also took on the big task of labeling EVERYONE'S clothing at the house – I truly appreciate all you do!
~Nominated by Kristen McMillen, Community Living Supervisor
If you have had an exceptional experience with an Aspire employee, please nominate them for a Shooting Star Award by clicking here!