2021 Simply the Best Award Winner
2021 Simply the Best Award Winner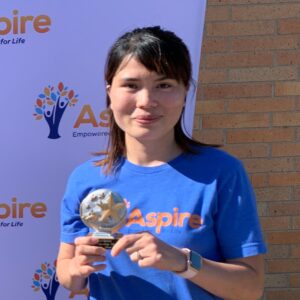 Aspire is proud to recognize Sasha Metzinger as our 2021 Simply the Best Award Winner!
Each month Aspire collects outstanding employee recognition called Shooting Star nominations.  These are voted upon and awarded at our monthly staff meeting.  All of the monthly award winners are voted upon each year to select our yearly Simply the Best Award winner.
Hau has always been a hard worker, she is always there for everyone when they have a need, she teaches new employees the ropes and how to get things done. She won her monthly nomination when she performed CPR on a resident at her work location while her co-worker spoke with emergency services to ensure that this person received the care that they needed.
We can never say enough good things about Hau so we will just say thank you for being Simply the Best!!
~Nominated by Thomas Carlson, Community Living Supervisor