August Shooting Star Award Winner
Each month Aspire collects outstanding employee recognition called Shooting Star nominations.  These are voted upon and awarded at our monthly staff meeting.  
All of the monthly award winners are voted upon each year to select our yearly Shooting Star Award winner.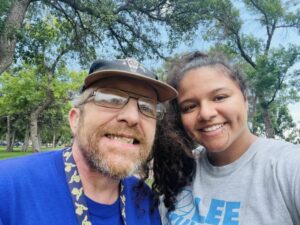 The first night of the county fair, on of the ladies Briana supports was going to head out to the rodeo to meet up with her boyfriend.  Briana and another staff made sure that she had the resources and that she knew to call and let staff know she made it so they didn't worry about her.
Briana was OFF WORK but was called by another staff to assist in giving her a ride back home after some confusion about taking the shuttle. Briana went back into work, got their van, and drove to the fairgrounds. She could not locate the lady she supports anywhere, in spite of being told where she was thought she was. She tried calling her cell phone and the phone number she had called staff from to no avail. I can only imagine the panic that must've set in for Briana not being able to get a hold of her, driving around the fairgrounds, parking and walking for over 30 minutes trying to find her, and still unable to locate her. Through Briana's perseverance and dedication, she was able to get a hold of someone and they were able to take her to where she was. Luckily she was SAFE!
Briana showed what a TRUE DSP is about that night. Not only did she go back into work to assist in giving this lady a ride home, she did NOT leave the fairgrounds until she was located safe and sound and was able to be given a ride home. Not many people would go back into work after working a 12-hour shift, drive around the fairgrounds for what probably seemed like an eternity, walk around the fairgrounds for another half hour, try repeatedly to call, and not give up until she knew she was safe and sound! Kudos, Bri! Briana's actions with making sure the person was prepared before she left as well as going back above and beyond in coming back in was crucial in making sure the person supported got home safe.
~Nominated by Julie Schorg, Employment Specialist and Arlette Keller, Director of Quality Assurance
If you have had an exceptional experience with an Aspire employee, please nominate them for a Shooting Star Award by clicking here!