July Shooting Star Award Winner
Aspire is proud to recognize Amanda Holmes as our July Shooting Star Award Winner!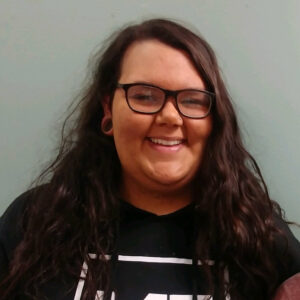 Each month Aspire collects outstanding employee recognition called Shooting Star nominations.  These are voted upon and awarded at our monthly staff meeting.  All of the monthly award winners are voted upon each year to select our yearly Shooting Star Award winner.
I would like to nominate Amanda for the shooting star. A person supported at the location where she works was hospitalized and needed intense care upon returning home. Amanda made sure while she was at the hospital that she had her comforts from home. Upon leaving the hospital, Amanda made sure she made it to all of her appointments and took care to make sure needs were met. This required appointments every day for over 2 weeks, and on several days multiple appointments. Amanda came in early on days she worked, came in on days off, stayed late to help staff get comfortable with providing the care needed, as well as trained staff on how to troubleshoot. This is not out of the norm for Amanda. Every day she makes sure the ladies where she works are living their best lives possible. she is always brainstorming and coming up with ideas to do activities and is always ready to plan things, even though it requires her coming in on her days off. she does her very best to make sure everyone is happy and healthy. Amanda is a fairly new assistant supervisor and has really stepped into her role. She is the go-to person to know anything about her location and takes pride in her work. I can't thank Amanda enough for helping us all through these crazy times! She is the backbone of her location and she does a great job pushing us all forward to success!!
~Nominated by Tammy Hemmestad, Community Living Supervisor
If you have had an exceptional experience with an Aspire employee, please nominate them for a Shooting Star Award by clicking here!