August Shooting Star Award Winner
Aspire is proud to recognize Sasha Metzinger as our August Shooting Star Award Winner!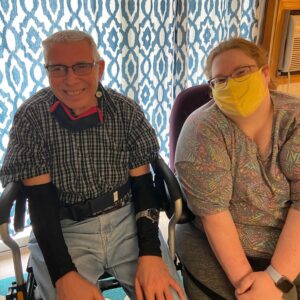 Each month Aspire collects outstanding employee recognition called Shooting Star nominations.  These are voted upon and awarded at our monthly staff meeting.  All of the monthly award winners are voted upon each year to select our yearly Shooting Star Award winner.
It has been a busy past couple of weeks for Sasha. Sasha is always stepping up to help and when a gentleman needed a ride home from the hospital on a Saturday she was willing to be on-call for the job. Little did she know how the ride would turn into staying at the house because he would need one-to-one care and she didn't feel comfortable leaving her co-worker there alone.
After the weekend, this gentleman many many trips back and forth from home to the ER and was admitted multiple times in one week. Sasha ensured staffing at the house was good for when he was home and addressed all med changes; she also had to facilitate rearranging bedrooms at another house for a new person moving in. All while I was out sick.
Thank you Sasha for always stepping up to support your co-workers and do what needs to be done, especially in my absence!
~Nominated by Amber Locke, Community Living Supervisor
If you have had an exceptional experience with an Aspire employee, please nominate them for a Shooting Star Award by clicking here!