June Shooting Star Award Winner
Aspire is proud to recognize Hillary Plucker as our June Shooting Star Award Winner!
Each month Aspire collects outstanding employee recognition called Shooting Star nominations.  These are voted upon and awarded at our monthly staff meeting.  
All of the monthly award winners are voted upon each year to select our yearly Shooting Star Award winner.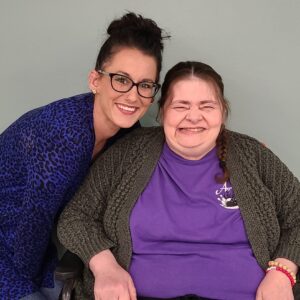 During May orientation week everyone was running very short on staff. This greatly affected Hillary and her department!!! It was a rough week but Hillary went right to work. No one can say that she isn't willing to jump right into the mix to help staff and participants.
A few week later there was construction being done at the Center that required all of the participants involved in Day Services to relocate for a couple of days! Monday- Wednesday, Hillary ran around (like a chicken with her head cut off) to begin gathering supplies that the staff and PWS would need for Thursday and Friday away from the Center. Everything from fans, water toys/activities, card games, yard games, money for the participants to partake in activities at Wylie, bathroom essentials, snacks, drinks, YOU NAME IT! With all of that, comes a whole lot of stress, but Hillary continued to put the participants first and made their happiness and health the main priority. Several people doubted that things weren't going to work out, that it was going to be chaos, and that we wouldn't be prepared but I think we can all agree that Thursday and Friday went very well!
So Hillary, THANK YOU, THANK YOU, THANK YOU for your continuous hard work and dedication! Things and moments like this mean so, so much to the participants and really shows how dedicated you are to supporting them!  I'm so grateful that you decided to join our team here at Aspire!! I enjoy being able to say that I'm your co-worker!!!
~Nominated by  Betsy Harry, Workforce Coordinator and Briana Garrett, Direct Support Professional
If you have had an exceptional experience with an Aspire employee, please nominate them for a Shooting Star Award by clicking here!