May Shooting Star Award Winner
Aspire is proud to recognize Jilene Suedmeier as our May Shooting Star Award Winner!
Each month Aspire collects outstanding employee recognition called Shooting Star nominations.  These are voted upon and awarded at our monthly staff meeting.  
All of the monthly award winners are voted upon each year to select our yearly Shooting Star Award winner.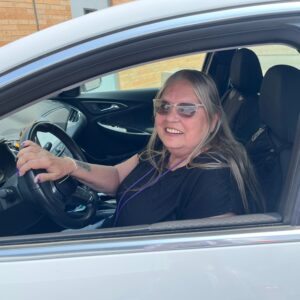 One Friday morning Jilene started bright and early to make sure that people were at their appointments on time (which isn't the first or last time she has schlepped into work early)! That takes real motivation and dedication!!
While waiting over an hour for one of the people to get a room…..Jilene showed real patience and had a great attitude the entire time!!
I had the pleasure of seeing first hand just how professional Jilene was with the medical staff at Avera St. Luke's same day surgery.
Jilene also has a great relationship with the people she supports. She really knew the people who were having the procedures done that day and exactly how to make them feel more comfortable (or as comfortable as you can be while waiting to be "put under", while being poked and prodded)!!
In the nearly 8 years that Jilene has been with Aspire she has always been a team player and ready to do whatever needs to be done!
~Nominated by  Janae Hamilton, Development Director
If you have had an exceptional experience with an Aspire employee, please nominate them for a Shooting Star Award by clicking here!