March Shooting Star Award Winner
Aspire is proud to recognize Lynn Hegge as our March Shooting Star Award Winner!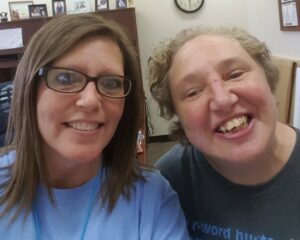 Each month Aspire collects outstanding employee recognition called Shooting Star nominations.  These are voted upon and awarded at our monthly staff meeting.  All of the monthly award winners are voted upon each year to select our yearly Shooting Star Award winner.
I would like to thank Lynn for all of the hours she picked up working at the Federal Building contract this past year. Lynn has a great rapport with people she works with. Lynn was very helpful with staff with dealing with behaviors of people supported. She helped with timing assessments, made out the schedule each month (asking other staff what days they wanted to work), making sure that documentation was completed, and perform program audits. She also made sure the laundry was completed each day with the help of another person supported. Thank you for being a team player!
~Nominated by Deb Silvernagel, Employment Supervisor
If you have had an exceptional experience with an Aspire employee, please nominate them for a Shooting Star Award by clicking here!