April Shooting Star Award Winner
Aspire is proud to recognize April Doxtader as our April Shooting Star Award Winner!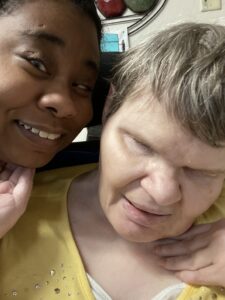 Each month Aspire collects outstanding employee recognition called Shooting Star nominations.  These are voted upon and awarded at our monthly staff meeting.  All of the monthly award winners are voted upon each year to select our yearly Shooting Star Award winner.
A couple of weeks ago I cam in to work the overnight shift.  April ha just worked the 4-10pm shift and she had told me what there was to do and that a person supported was having a rough evening. She left and went home.  The person supported was wide awake and having a very rough evening I didn't know what to do as the person kept coming out of their bedroom wide awake, wanting water, laying in the hallway, not wanting to go to bed, etc.
Around 11:45pm I decided to call for some advice and/or help on what to try to assist the person to calm down and get into their bed so they could get some rest.  I called another house and they didn't know what to do so I tried calling the supervisor but they didn't answer.  So I called April hoping she would know what to do.    She said she would call me back after she tried calling a few people.  April called back 10 minutes later and said she was on her way to the house.
April was so gracious to come sit with me and help me with the person supported until 4am when they finally fell asleep.  I will be forever grateful for April as I had no idea what to do and she came in to help and stayed until 4am!!  Thank you, Thank you, thank you April!!!
~Nominated by Lexi Wika, Direct Support Professional
If you have had an exceptional experience with an Aspire employee, please nominate them for a Shooting Star Award by clicking here!