December Shooting Star Award Winner
Aspire is proud to recognize Ashley Olson as our December Shooting Star Award Winner!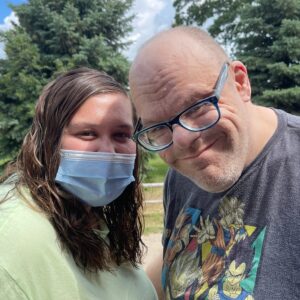 Each month Aspire collects outstanding employee recognition called Shooting Star nominations.  These are voted upon and awarded at our monthly staff meeting.  All of the monthly award winners are voted upon each year to select our yearly Shooting Star Award winner.
Ashley has really stepped up in the last couple months to help out at her main location; she has shown that she is someone that her supervisor can lean on when she needs help, someone that the other staff at the house can turn to for guidance or support.  She has taken over doing to med orders, the food orders and while her supervisor is on extended leave the finances.  She has also been helping another out with another location in completing their food order.  With the current staffing crisis she has been work extra hours too! She does all of these things with a positive and joking attitude.
Thank you Ashley So much for all the amazing help and for stepping up and being such an amazing staff to work with, for always going above and beyond your job duties to help not only me but the staff and the PWS. Aspire and myself are so very lucky to have you!
~Nominated by Chelsea Wilkinson, Community Living Supervisor; Amber Locke, Community Living Supervisor; and Arlette Keller, Director of Quality Assurance
If you have had an exceptional experience with an Aspire employee, please nominate them for a Shooting Star Award by clicking here!