January Shooting Star Award Winner
Aspire is proud to recognize Emilia Krueger as our January Shooting Star Award Winner!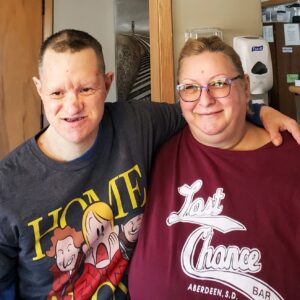 Each month Aspire collects outstanding employee recognition called Shooting Star nominations.  These are voted upon and awarded at our monthly staff meeting.  All of the monthly award winners are voted upon each year to select our yearly Shooting Star Award winner.
Linda and I learned from Millie that my brother LOVES the movie Home Alone and watches it many times a year at Christmas.  We ordered him a t-shirt and when it arrived Millie said it made his day.  I was on the phone with him when he opened it, he got really excited, gave the phone to Millie while he ran to his room to put it on.  When he came out Millie immediately took pictures and sent them to me.  Thank you!!   You are fantastic!
The entire staff at the house where my brother lives are awesome and I so appreciate the care they provide for my brother, how friendly and supportive they are whenever I call.  Millie always seems to go a bit above and beyond and is so complimentary of my brother and supportive of my requests.   This is just one small example of her outstanding client service.
While the residents of the homes are the primary clients you serve directly, it is so important to me (and I'm sure others) as a secondary level of client to know that he is received outstanding care by staff that truly appreciate him and his unique gifts.
~Nominated by Carmen Rahm, family member
If you have had an exceptional experience with an Aspire employee, please nominate them for a Shooting Star Award by clicking here!