February Shooting Star Award Winner
Aspire is proud to recognize Jessica Janisch as our February Shooting Star Award Winner!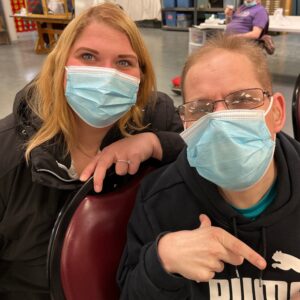 Each month Aspire collects outstanding employee recognition called Shooting Star nominations.  These are voted upon and awarded at our monthly staff meeting.  All of the monthly award winners are voted upon each year to select our yearly Shooting Star Award winner.
When one location lost one of their day staff, there were few guardians who expressed that they were very sad to see them go and were concerned of who could ever fill their shoes. In enters Jessica. She seamlessly filled this gap with her work ethic and good rapport she has with the people supported and her coworkers. The same guardians who were initially worried have now expressed their relief that she is there to assist their loved ones.
When sickness hit the location it resulted in the majority of their slim staff roster being unable to work causing a lot of the weight of being a veteran staff placed on her shoulders. She has picked up this slack gracefully and has not seemed to miss a beat. Knowing the other staff that work there, they were probably at home panicking but I am confident that they will return with a sense of relief that their partner in crime was able to hold down the fort.
I know that I appreciate everything she has done and I know that the people that live there also appreciate her!!
~Nominated by Chelsea Wilkenson, Community Living Supervisor and Quality Assurance Coordinators
If you have had an exceptional experience with an Aspire employee, please nominate them for a Shooting Star Award by clicking here!