February Shooting Star Winner
Aspire is proud to recognize Char Jensen as our February Shooting Star Award Winner!
Each month Aspire collects outstanding employee recognition called Shooting Star nominations.  These are voted upon and awarded at our monthly staff meeting.  
All of the monthly award winners are voted upon each year to select our yearly Shooting Star Award winner.
On an evening in the beginning of February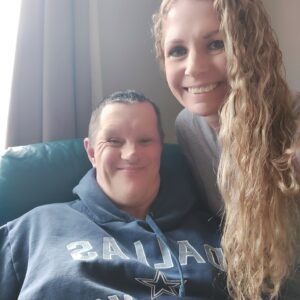 , Char was providing routine assistance to the gentlemen that live at the house where she works. In the course of what started as a typical shift, Char found one of the gentlemen had become unresponsive. She acted quickly and called, 911, notified her supervisor and began CPR until the paramedics arrived.  They were able to stabilize him enough to get him to the hospital at that time.  Unfortunately, this gentleman did pass away once in the care of the emergency team despite everyone's greatest efforts.
Although this instance had a sad conclusion, Char acted quickly, decisively and professionally. She was put in the most difficult scenario that care providers could face and faced it with grace, even thought her giant heart was likely breaking at the time.  After the chaos began to settle, Char finished her overnight shift giving the other gentlemen the quality care she is known for.
~Nominated by Amber Locke, Community Living Supervisor and Carlean Eaton, Quality Assurance Coordinator
If you have had an exceptional experience with an Aspire employee, please nominate them for a Shooting Star Award by clicking here!