March Shooting Star Award Winner
Aspire is proud to recognize Jennifer Landon as our March Shooting Star Award Winner!
Each month Aspire collects outstanding employee recognition called Shooting Star nominations.  These are voted upon and awarded at our monthly staff meeting.  
All of the monthly award winners are voted upon each year to select our yearly Shooting Star Award winner.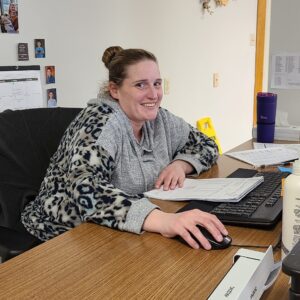 At the end of March, Jennifer will have been with Aspire and then nursing team for 2 years. She stepped into her new medical role full speed ahead during a pandemic. Not only was she new to Aspire, but she was newer to Aberdeen.  Trying to learn new faces can be challenging when everyone is wearing a mask!
Many times when we are new to a group/area it can take quite some time to feel comfortable to put ourselves out there but Jennifer not only joined 2 committees she also stepped up to provide some agency-wide training. Jennifer offers to help when/where she can, is always approachable and friendly, and has developed trusting relationships with many of the people we support.
There are many, many times I assign her large tasks (sometimes with short deadlines) that requires a significant amount of time dedicated to it, amongst her other responsibilities. She always accepts these tasks with a can-do attitude and completes them promptly.
This past year Jennifer was error-free during med administration which is definitely a welcomed accomplishment! (knock on wood!!). She also spends many hours scanning, uploading, documenting, and tracking down medical records, including several hundred pages of faxes each month, as well as the stacks that come back after an appointment. Jennifer's role in the nursing office has many moving parts yet she is able to maintain focus and organization. Thank you Jennifer for your dedication, hard work, and willingness to learn/take on new tasks!
~Nominated by  Angela Huffman, Director of Nursing
If you have had an exceptional experience with an Aspire employee, please nominate them for a Shooting Star Award by clicking here!