Community Impact Report 2023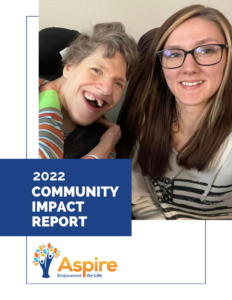 Aspire's first Community Impact Report is now available!
Paula, a person supported by Aspire, along with Jadynn, a direct support professional (DSP), are featured on the front cover. Paula is one of nearly 175 people with disabilities whose lives are impacted because of our dedicated staff. Aspire works diligently to help our participants be integrated members of our community. Opportunities for employment, housing, volunteerism, and community involvement are made possible because of you, our community. Together… we can empower adults with disabilities to lead fulfilling lives.